Alconbury and Wyton
---
Two historic Huntingdonshire airfields situated approximately seven miles apart. RAF Wyton's history dates back to April 1916 and it is still in use by the armed services today. RAF Alconbury was first established as an airfield in 1938 and it remained in use by the United States Air Force until 1995. Public access to both sites is limited, but there is much to see nearby and RAF Wyton has a superb Heritage Centre which can be visited by prior appointment.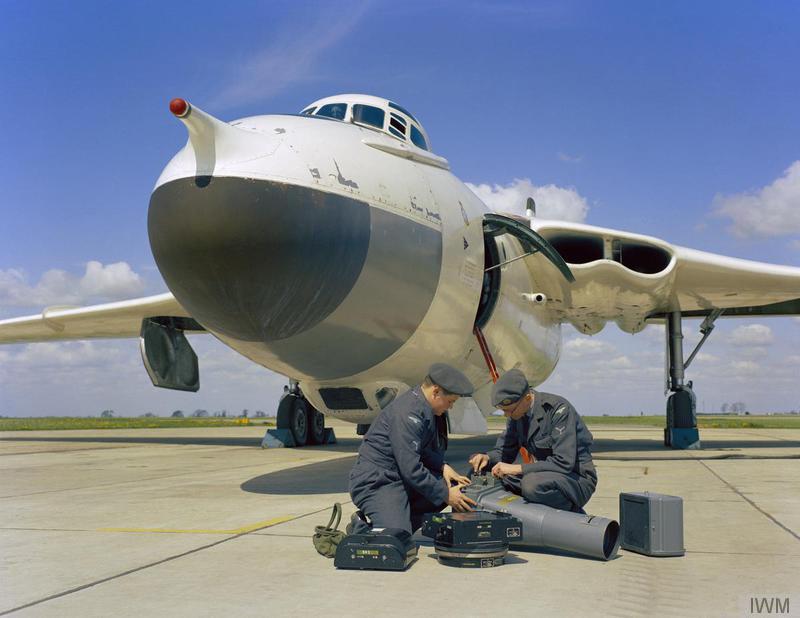 RAF Wyton was first established as an airfield in 1916. Two years later, on 1 April 1918, the Royal Air Force (RAF) was founded following the merger of the Royal Flying Corps (RFC) and the Royal Naval Air Service (RNAS). Which means that 1 April 2018 will see the commemoration of the RAF's centenary. 100 years in which the nature of aerial warfare, and the aircraft used during it, have changed to a degree that no-one could possibly have forseen.
The Sopwith Camel was a single seat biplane widely considered to be one of the best fighters introduced by the RFC during World War One. First flown in combat in 1917, it was a remarkably elegant aircraft which could generally out-turn any enemy aircraft it came across. It was the Spitfire of its day.
The Camel had a maximum speed of 113 mph and a range of approximately 300 miles. Travelling that distance would therefore take approximately two and a half hours. There was no car or train yet built which could possibly match such a speed. It's not at all fanciful to describe the Camel as being on the cutting edge of aviation technology. In its day.
Compare and contrast with the RAF's current front-line fighter, the Eurofighter Typhoon. This aircraft has a range of 1,800 miles. At altitude, it can fly at a top speed of 1,550 mph. Or, to put it another way, the Typhoon will cover 300 miles in approximately 12 minutes. No car or train yet built can possibly match that speed either.
Not everything has changed so dramatically. A hundred years after it was first established, RAF Wyton is still, just, an airfield. Even though all military flying ceased there in February 2015, RAF Wyton still has a runway on which light aircraft land from time to time. No longer directly controlled by the RAF, even though its name implies otherwise, RAF Wyton has seen and sometimes accommodated all except the very latest developments in aviation technology.
There are very few airfields in the county which can match such a record. And very few airfields are so little known as Wyton. In part, this is because it remains a military establishment, now under the control of the Joint Forces Command, with responsibility for the acquisition and analysis of defence intelligence. However, not all parts of Wyton are closed to the public. It has a Heritage Centre which can be visited on an appointment-only basis.
Part of the Heritage Centre contains the Pathfinders Museum and the Pathfinders very much deserve the recognition and respect which the museum seeks to perpetuate. They were experienced, highly professional crews who flew in advance of the Main Force of RAF bombers in order to mark targets. First there and sometimes nearly last to leave. Because target marking involved dropping target indicators, (essentially coloured flares), which could clearly be seen in the pitch darkness by following aircraft. As the flares died out, or were themselves destroyed by bombs, they had to be replaced by more flares.
Pathfinder crews had also to observe the progress of the bombing and issue instructions to bomber crews dependent upon the accuracy or otherwise of their bombing. This meant circling the target area at a higher altitude, all the time risking being shot down by flak or an enemy night fighter, or crashing into another aircraft. Pathfinders were the very tip of the bombing spear and the losses of both crew and aircraft were correspondingly high.
The early days of RAF Alconbury were modest. In 1938, 150 acres of open fields on Alconbury Hill were acquired by the Air Ministry for use as a satellite airfield. It had been recognized for some time that, in the event of war, permanent RAF stations would probably be identified and their runways and buildings bombed. Aircraft might be destroyed on the ground or unable to take off or land until repairs had been completed. Hence the need for a location nearby which could be used as a temporary landing ground. These were, of course, the days of largely grass runways and almost any reasonably large expanse of level ground could, if necessary, be used for the purpose. So it was that 150 acres on Alconbury Hill became the satellite landing ground for nearby RAF Upwood.
Facilities were intentionally limited. Satellite airfields did not want to advertise their presence by constructing hangars and permanent buildings. Ground crews occupying the site lived in tents and a few wooden huts. Anyone from the World War One era would have felt quite at home should they have found themselves suddenly transported to 1938.
During World War Two, RAF Alconbury was substantially upgraded to heavy bomber status – meaning concrete runways, hardstandings, large hangars, a perimeter track and semi-permanent buildings for accommodation and technical services. A variety of units were based here but Bomber Command's association with the airfield came to an end by August 1942. It is estimated that 67 RAF aircraft had been lost on operations flown from Alconbury – 8 Blenheim light bombers and 59 Wellington bombers.
The American 93rd Bomb Group arrived in September 1942, equipped with B-24 'Liberator' bombers. Further work was undertaken on the airfield – principally extending the runways and adding more hardstandings. Then, in April 1943, the Boeing B-17 'Flying Fortress' bombers of the 92nd Bomb Group arrived. It was these aircraft, amongst many others, that were to participate in large-scale daylight bombing attacks on German targets conducted by the USAAF.
After World War Two, control of the airfield was returned to the RAF. Being surplus to requirements, it was virtually unused until 1953. US Air Force units occupied the site and, in line with its new status as a key element of the aerial front line in the Cold War, the airfield was again upgraded. A variety of specialist squadrons occupied the site over subsequent years, culminating in a variant of the U-2 spy plane being deployed to fly secret reconnaissance missions over Eastern Europe.
In brief…
RAF Wyton
RAF Wyton opened in April 1916 and was located on either side of the A141 road
During World War One, the site was occupied by a variety of training and operational squadrons, including American and Canadian units
After the war ended, the airfield continued in sometimes intermittent use as a private landing strip
Construction as a bomber station began in 1935 and took 2 years to complete, even though there were still grass runways.
A 139 Squadron Blenheim from Wyton carried out the first Bomber Command sortie of the war – photo reconnaissance over north-west German coast on 3 September 1939
During the winter of 1941-42, concrete runways were constructed. Also a perimeter track linked the 37 concrete hardstandings already in place
The Pathfinder force was formed on 15 August 1942. It was initially composed of squadrons based at Wyton, Oakington, Graveley and Warboys
During World War two, a total of 218 bombers were lost on operations from Wyton: 57 Blenheims, 5 Wellingtons, 48 Stirlings, 64 Lancasters and 47 Mosquitos.
In January 1953 the airfield became the main centre for photographic reconnaissance – Mosquitos being replaced by Canberras, then Valiants
The final operational RAF squadron, (No. 1, Photographic Reconnaissance Unit), left Wyton in November 1993
RAF Wyton hosts the annual Pathfinder March, a 46-mile (74 km) walk which starts and finishes at RAF Wyton.
RAF Alconbury
In 1938, 150 acres of open fields on Alconbury Hill were leased by the Air Ministry for use as a satellite airfield.
In April/May 1940, light bombers based at Wyton conducted attacks on targets in Belgium and Holland, suffering horrendous losses.
The first Victoria Cross awarded to a member of the RAF during WW2 was as a result of Flying Officer Garland's actions during an attack on the Albert canal
The airfield was upgraded in June 1940, marking its transition to heavy bomber status
Luftwaffe bombers attacked the airfield in September 1940 and March 1941, causing some damage but not enough to close the airfield
By the end of the RAF's occupancy of the site in August 1942, a total of 67 aircraft flying on operations had been lost
From September 1942 until the end of the war, USAAF bomber units occupied the site.
The US Air Force returned in 1953 and occupied it continuously until 1995. Buildings and facilities were progressively upgraded to take account of ever more sophisticated aircraft being deployed, culminating in a variant of the U-2 spy plane.
Part of the site is now to be developed for housing and light industrial uses. The US Air Force has announced its intention to withdraw from the remainder of the site as a result of defence expenditure cuts.
RAF Wyton Heritage Centre
Housed in a building situated near the main entrance, this is actually a heritage and conference centre which houses four fascinating collections of objects, documents, photographs and memorabilia. The collections are:
RAF Wyton historical timeline – a set of rooms on either side of a corridor, each depicting a different era in RAF Wyton's history through the use of typical items, documents and photographs
The Pathfinder Collection – objects, photographs and memorabilia relating to the role of RAF Pathfinders during World War Two
UK Imagery Intelligence – a combination of the Joint Air reconnaissance Intelligence Centre (JARIC) collection and elements from the Medmenham Archive
Medmenham Collection Archive – described as 'the definitive collection of material relating to UK aerial reconnaissance and imagery intelligence' from World War Two and subsequently.
How to get there
Car – RAF Wyton
Situated just to the east of Huntingdon, RAF Wyton is well-placed for the north-south A1 and the east-west A14. The postcode to use for satnavs is PE28 2EA.
Car – RAF Alconbury
The airfield site is located just to the east of Junction 14 on the north-south A1(M). The east-west A14 also runs very close to the site and so it's relatively easy to approach the site from whichever direction you are travelling from.
 Rail – Both sites
Huntingdon is the nearest railway station. It is on the East Coast main line and so connections to the south and north are good. London (King's Cross) is approximately one hour away. A taxi from Huntingdon station will take to either site – although be warned that the sites are in opposite directions, so taking a taxi to both sites would be expensive.
Bus – Both sites
To check the availability and times of buses currently running to and from Wyton or Alconbury, use the county council's web site: https://www.cambridgeshire.gov.uk/site/custom_scripts/bus_timetable_by_location.aspx
Opening hours
RAF Wyton
As noted above, all visits to the Heritage Centre/Pathfinders Museum are by appointment only and subject to the availability of volunteer staff to escort visitors.
RAF Alconbury
The charity Airfield Research Group has a large 20th century military architecture archive along with the Alconbury Heritage Collection. Access to the archive is by prior arrangement. Further details may be found on the group's website (airfieldresearchgroup.org.uk).
Additionally, the site developers, Urban & Civic, would like to encourage anyone with memories and stories of the site to contact them. For further details, see the section below.
Contact
RAF Wyton
In writing
Visit Coordinator
RAF Wyton Heritage and Conference Centre
RAF Wyton
Huntingdon
Cambridgeshire PE28 2EA
United Kingdom
Email: JFIGDGIFC-WHCVistCoord@nullMOD.UK
RAF Alconbury
Rebecca Britton
Communications, Communities and Partnerships Liaison
Tel: 01480 413141
Email: rbritton@nullurbanandcivic.com
Other things to see
Memorials
Houghton with Wyton village war memorial

There are 12 names on the memorial from World War One and nine names from World War Two. In the former category, there is one holder of the Victoria Cross – Captain John Green, Royal Army Medical Corps (RAMC). In the latter category there are two RAF personnel:

Pilot Officer Leslie Cursley – 76 Squadron

Died on Tuesday 30th March 1943 when his aircraft crashed in the North Sea. Aged 23, he was the son of Thomas and Ethel Cursley; and husband of Kathleen Dorothy Cursley, of Crouch End, Middlesex. Leslie is commemorated on the RAF Runnymede Memorial, Surrey, Panel 131.

Flight Sergeant William Rogers – Pilot, 78 Squadron

Died on Monday 25th August 1941. Age 25. Son of Harold Herbert Rogers, and of Winifred Rogers, of Houghton, Huntingdonshire. Buried in Wavre Communal Cemetery, Wavre, Brabant wallon, Belgium. Row A. Grave 4.

Huntingdon town memorial

This is a plinth topped by a statue of a seated soldier 'The Thinker'. On it are the names of three aviation service personnel from World War One:

Cadet S Archer – 9 Cadet Wing, RAF

Originally from Huntingdon. He died on 7th November 1918, aged 21, while serving with No. 9 Cadet Wing. Buried at Huntingdon.

2nd Lieutenant John Marshall – 45 Squadron, RFC

Also from Huntingdon, John served as pilot with 45 Squadron from January 1917. He was killed in action on 6th April 1917, aged 19, while flying a Sopwith Strutter on photographic reconnaissance duties. John is buried at Tournai, Belgium.

Lieutenant Edward Maule – 20 Squadron, RFC

Also from Huntingdon, Edward was killed in action on 6th February 1917, aged 24, while serving as observer with 20 Squadron. He is buried at Hooge Crater Cemetery, Zillebeke, Belgium.

Pathfinders Memorial Garden – RAF Wyton

Located just inside the entrance to the site. It commemorates the squadrons operating from RAF Wyton during World War Two and also the crew of Canberra WJ877 (231 OCU) which crashed on 18 March 1991; the crew of Victor XL230 (543 Squadron) which crashed on 10 May 1973; and those killed by the crash of Canberra XH 137 (39 Squadron) which crashed on 3 May 1977.

Pathfinders Memorial – Castle Hill House, Huntingdon

There is a blue plaque fixed to the wall outside the building which was the HQ of 8 Group from 1943-1945.

St Ives Town memorial

The memorial is situated in Main Street, St Ives and is an octagonal cross of sacrifice standing on an octagonal plinth and a single stepped base. There are 74 names from World War One and 31 names from World War Two. Aerial service names are:
World War One

2nd Lieutenant Walter Cottrell-Jones – 105 Squadron, RFC

He died on Sunday, 17th March 1918 as the result of a flying accident while serving as pilot with 105 Squadron . He is buried in St. Ives Public Cemetery, Grave 3726.

Flight Commodore Miles Day DSC – RNAS

Missing presumed killed on Wednesday, 27th February 1918. Aged 21, Miles had a reputation as a courageous and aggressive patrol leader and was credited with 5 combat victories. He was last seen clinging to the wreckage of his aircraft in the North Sea. He has no known grave and his name is also commemorated on the Chatham Naval Memorial, Kent.

World War Two

Flying Officer Gilbert Allen – 213 Squadron, RAFVR

Died on Monday, 11th December 1944. Aged 20, he was the son of Gilbert and Anna Allan, of St. Ives. He is buried in Belgrade War Cemetery, Serbia, Plot 6. Row A. Grave 9.

F/O Noel Brady

Died on 21st October 1942. He was the son of James Noel and Jessie Brady of Sheffield and the husband of Kathleen Ethel Dorothy Brady.

F/S Ronald Dodson – 115 Squadron

Died on Wednesday, 7th June 1944. Aged 22, he was the son of Ernest and Florence Dodson; and husband of Phyllis Joan Dodson, of St. Ives. Ronald has no known grave and his name is also commemorated on the Runnymede Memorial, Surrey, panel 228.

Sergeant Eric Gates – Observer, RAFVR

Died on Monday, 13th September 1943. Aged 21 he was the son of Harry and Gertrude Gates, of St. Ives. He is buried in St. Ives Public Cemetery, Grave 61.

Sergeant Dennis Kirby – Flight Engineer, 50 Squadron, RAFVR

Died on Sunday, 14th January 1945. Aged 21, the son of Frank and Minnie Kirby, of St. Ives. He is buried in the Berlin 1939-1945 War Cemetery, Brandenburg, Germany. Plot 2. Row D. Grave 21.

Aircraftman First Class Alfred Rule – RAFVR

Died on Tuesday, 23rd January 1940. He is buried in St Ives Church Cemetery.

Aircraftman First Class Charlie Wright – 625 Squadron, RAFVR

Died on Tuesday, 25th February 1941. Aged 23, the son of Harry and Elizabeth Wright; and husband of Olive Constance Wright, of St. Ives. He is buried in St. Ives Public Cemetery, grave 896.

Sergeant Charles Wright – 625 Squadron, RAFVR

Died on Sunday, 19th March 1944. Aged 21, he was the son of Harry and Beatrice Wright, of St. Ives. He is buried in Durnbach War Cemetery, Bayern, Germany. Plot 2. Row E. Grave 16.
Cemeteries
Godmanchester – Church of St Mary Churchyard

There are two CWGC graves here. One is from World War Two:

Margaret Gorman – Aircraftwoman 2nd Class, WAAF

Age 16. Died on 25 March 1942.

Houghton with Wyton – Burial Ground

There are ten aerial service personnel buried here, including three of the crew of a Lancaster I, R5857 (OL-F), of 83 Squadron which took off from Mildenhall at 10.25 on 7th November 1942 to return to Wyton but crashed 3 minutes later at Starvegut Fram, Mildenhall, Suffolk. Four of the crew initially survived the crash, but one subsequently died of his injuries. Those buried here are:

Charles Hasekian – Flight Sergeant, Pilot, RCAF

Age 22. Son of John and Rose Hasekian,of Belmont, Massachusetts, U.S.A

Eric Macdonald – Sergeant, Air Gunner, RCAF

Age 20. Son of Robert M. Macdonald and Phyliss B. Macdonald, of Glace Bay, Cape Breton Co; Nova Scotia, Canada.

David Todd – Flying Officer, Pilot, RAFVR

Age 22. Son of Benjamin Bryant and Margaret Ross Todd; husband of Julia Argue Todd, of Tulsa, Oklahoma, U.S.A.

St Ives – Rural District cemetery

There are 12 civilian war dead buried here, ten of whom died on 5th October 1942, (and another, four-year-old Juliana Davies, who died on 6 October 1942). They were killed when a 156 Squadron Wellington bomber from Warboys crashed in the village of Somersham. Seven houses were wrecked by the crash and subsequent fire. The crew had already bailed out and they all survived.
Museums/Attractions
Places to stay, eat and drink
Huntingdon
The Old Bridge Hotel

Located on the banks of the River Ouse, the hotel describes itself as 'a handsome, ivy-clad 18th Century townhouse hotel'. Love the web site.
www.huntsbridge.com/

The George Hotel
Wyton area
The Three Jolly Butchers – 3 Huntingdon Road

Classic pub fare served in a rustic inn with inglenook fireplace, ceiling beams and beer garden.
Links
General
RAF Wyton
RAF Alconbury