Cambridge City Cemetery
---
Cambridge's main cemetery, also known as the Newmarket Road Cemetery, is the last resting place for generations of local people. Like many cemeteries, and very much like the city it serves, space is now at a premium. The last corners of empty space are being filled in. One day, perhaps not so far in the future, local people will have to be buried elsewhere.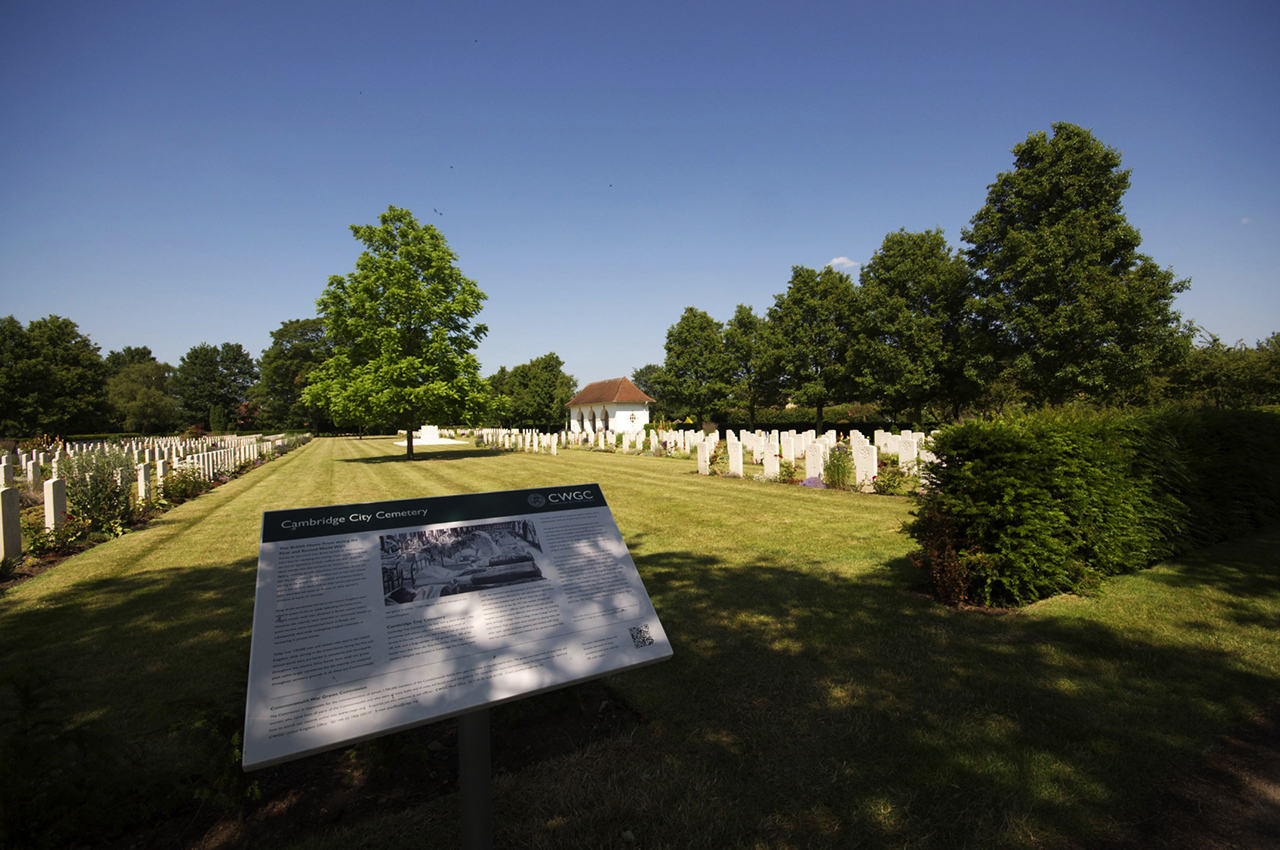 But local people are not the only ones at rest here. The cemetery also contains four immaculately maintained Commonwealth War Graves Commission (CWGC) plots comprising the graves of 1,008 service personnel and civilians from both world wars. The plots are very different shapes and sizes. They are situated in different locations across the cemetery, with no obvious connection between them.
Yet, although small by the standards of many CWGC cemeteries in France and Belgium, these four plots collectively comprise one of the largest CWGC cemeteries in the UK. Two of the plots contain casualties from World War One. The third plot contains a mixture of army and air force casualties from World War Two. The fourth plot, which is by far the largest, is mostly air force. It was established during the war as an RAF regional cemetery, the others being Brookwood, Harrogate, Oxford and Chester.
These arrangements were necessary because RAF service personnel who died accidentally, or as the result of illness, or while on active service, could not necessarily be buried in their home cities, towns or villages. Particularly so if the casualty was a member of the so-called 'Dominion' forces – typically Australia, Canada and New Zealand.
In the style of all CWGC cemeteries, the headstones are arranged in lines drawn with military precision. No distinction is made between military and civilian personnel, officers and other ranks, men and women. In some instances, for example, the seven man crew of a bomber which crashed are all buried together – the connection signalled by the gravestones being placed more closely alongside each other than usual. Otherwise the gravestones are uniformly spaced.
The location of all four plots in relation to the overall cemetery plan is shown in the illustration below.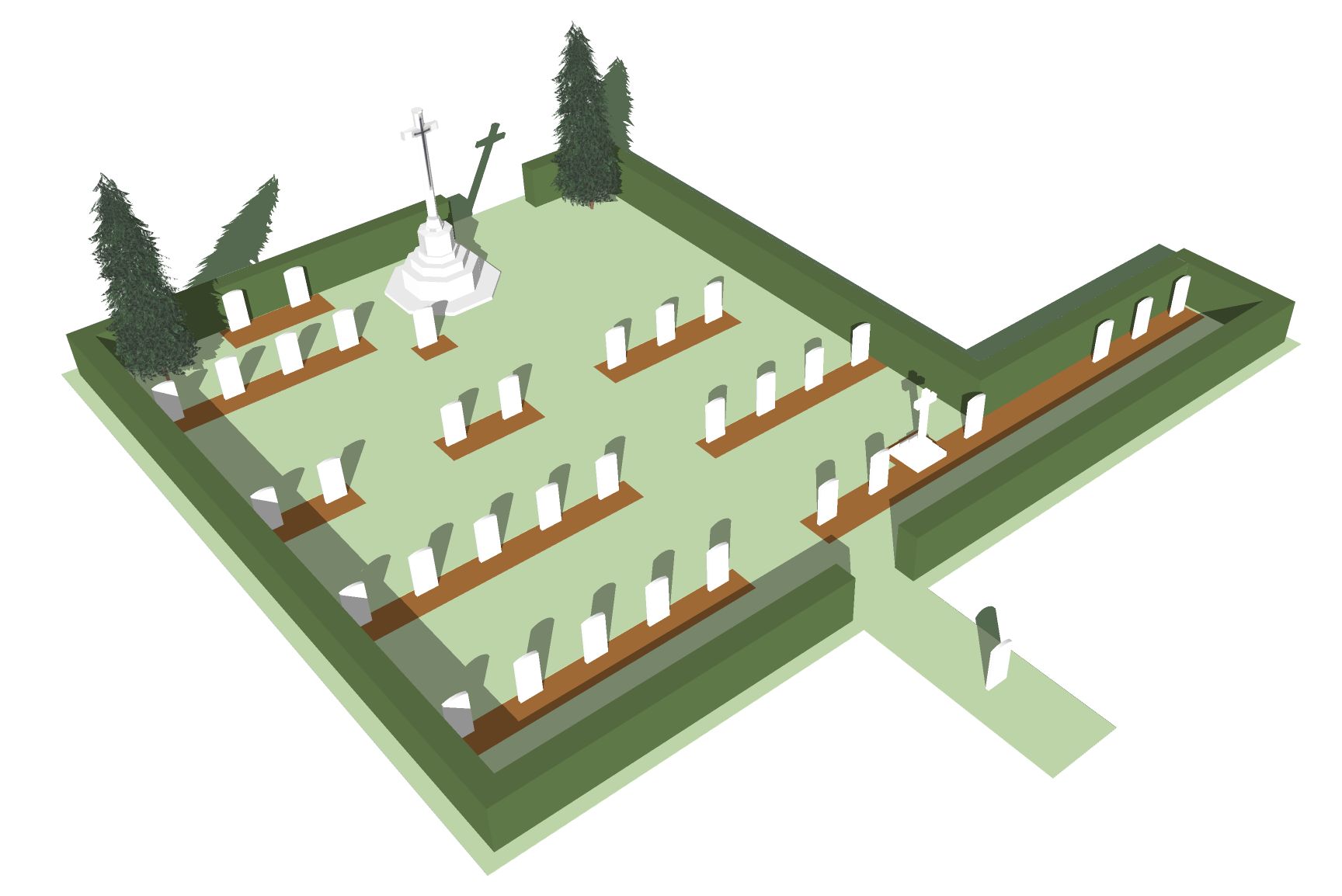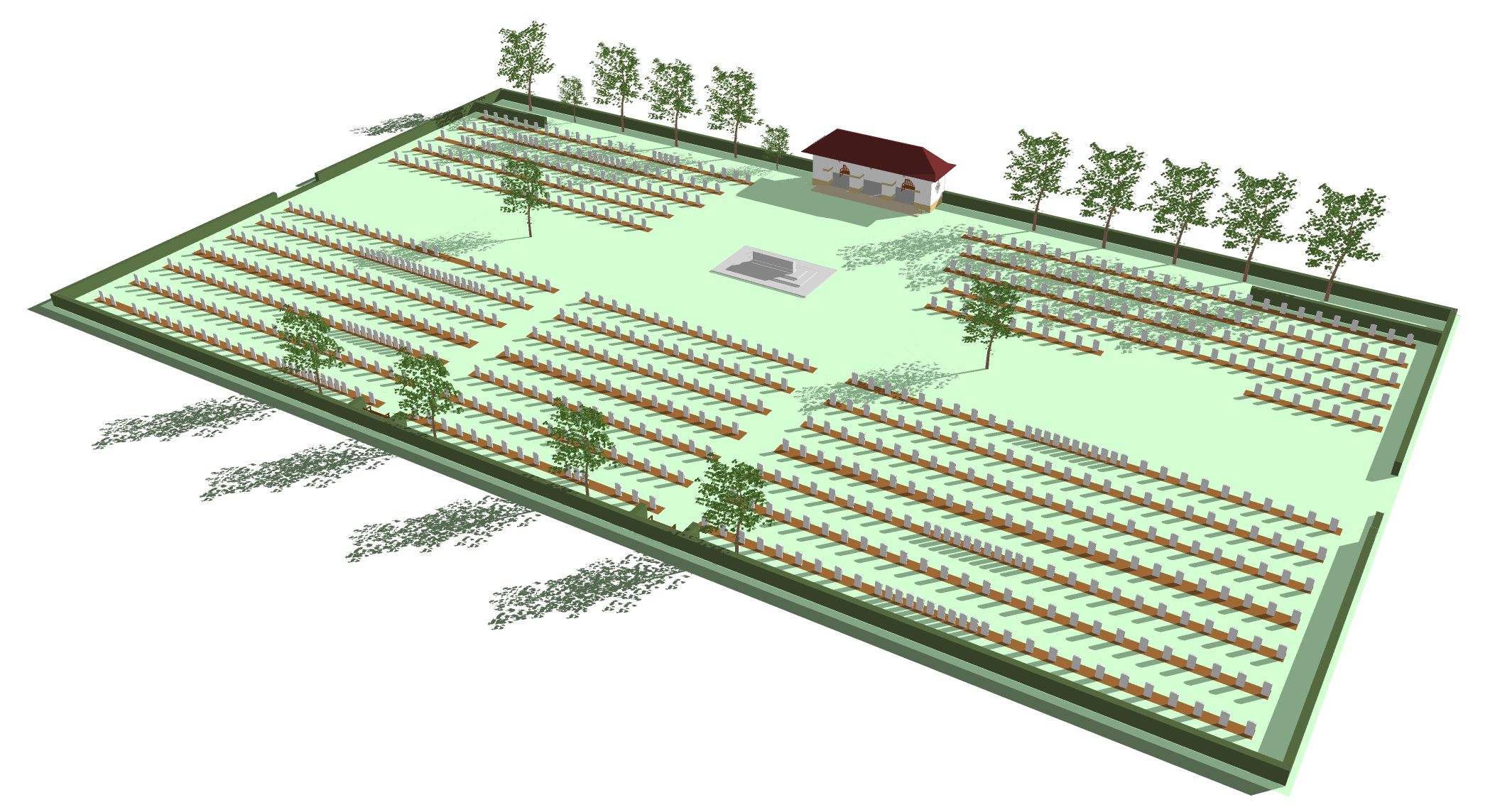 Cemeteries can be difficult places to visit. They sometimes prompt rather dark thoughts about personal mortality. That said, these four CWGC plots are beautiful places providing opportunities for calm contemplation and reflection – perhaps doubly so, because the nature of war itself is also a thing to be considered. And there is a story behind every grave, often a story with a specific connection to Cambridgeshire and its aviation heritage. This is just one of them:
Aircraftman First Class Harry Clack was from South Norwood in Surrey. In October 1940, he was posted to No. 54 Maintenance Unit, RAF, based at Marshalls of Cambridge – just the other side of the Newmarket Road from the cemetery. On his second day with his unit, Harry and several other unit personnel were sent to Eaton Socon in Bedfordshire to recover a crashed Luftwaffe Dornier 215 reconnaissance aircraft. The recovery crane accidentally touched an overhead power line and Harry and another airman died after being electrocuted. Harry was 16 years old. He is thought to be one of the youngest service personnel to have died during the war.
In brief…
The cemetery contains 181 Commonwealth burials from World War One and 829, (inclusive of three unknown service personnel), from World War Two.
The cemetery also contains four non-war service burials and ten war graves of other nationalities.
Most gravestones give basic information regarding a person's name, rank, unit and date of death. Often there is a personal inscription submitted by a close relative or family member.
Location
The cemetery is located at the junction of Newmarket Road (A1303) and Ditton Lane. See the map below for details.
History
Commonwealth War Graves Commission
Previously known as the Imperial War Graves Commission, and set up in the immediate aftermath of World War One, the CWGC currently cares for the graves of 1.7 million Commonwealth service men and women, and approximately 67,000 civilians, who died in two world wars, and in various wars and conflicts since then. These graves are situated all over the world, in 23,000 burial sites, and it's probably fair to say that no two sites are exactly the same.
British and Dominion service personnel had fought, and died, in many battles long before World War One. The arrangements for their burial were often ad hoc and, in many cases, little consideration was given to how the graves might be looked after in the years to come. World War One changed all that. There were too many casualties, too many burial sites, for the previous ad hoc arrangements to be appropriate. So it was that an organized system of graves registrations and permanent cemeteries was established. The system endures to this day
Cambridge City Cemetery
When the cemetery first opened, in 1903, Cambridge had not yet expanded to fill all the space around it. Known then as the Cambridge Borough Cemetery, there were eight hectares of land for burials. It must have seemed like a very large space indeed.
It is not clear why there are two World War One plots, nor why one is sited so far from the other. Many of those buried in both plots had been originally admitted to the 1st Eastern General Hospital in Cambridge – either as a result of falling seriously ill or being wounded during fighting on the Western Front. In total, there are 181 graves in both plots.
During World War Two, it was immediately obvious that a plot would have to be set aside for casualties. The General Service plot was established in 1940. It contains 48 graves – some of them air force personnel such as Harry Clack. The much larger air force plot was established in 1942. It contains over 750 graves. Service personnel from bases in nearby Norfolk and Suffolk, as well as further afield in Lincolnshire, are buried here. The Stone of Remembrance – unveiled by Marshal of the Royal Air Force Lord Tedder in July 1951 – stands near the centre of the plot.
Things to see
Here are just a few of the graves with a specific Cambridgeshire connection.
Arnold Feldman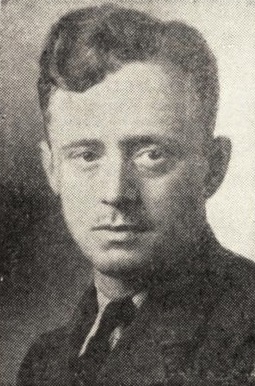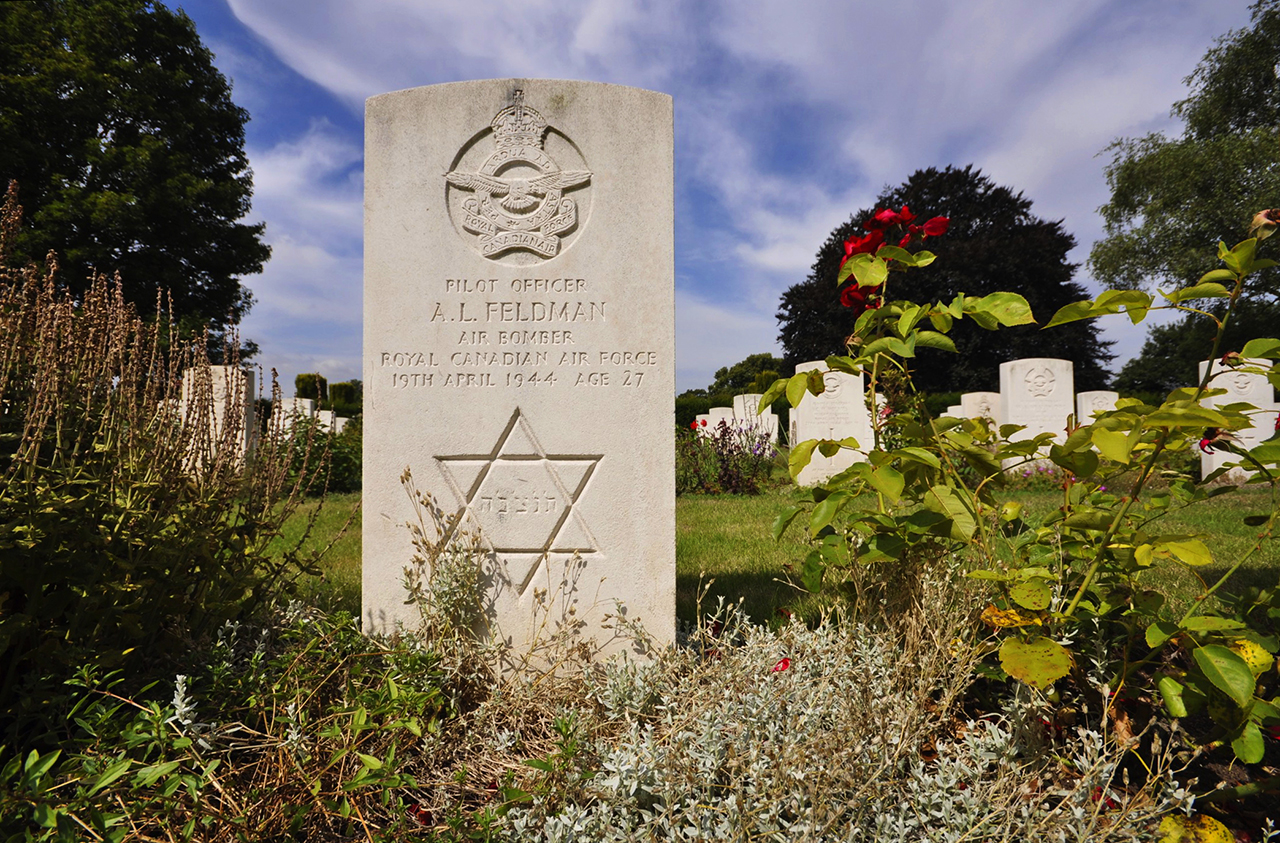 Pilot Officer Arnold Feldman, age 27, was a Canadian, the bomb aimer on board a 115 Squadron Lancaster which was shot down by a Luftwaffe intruder on the night of 18/19 April 1944 as it was preparing to land at Witchford. None of the crew of seven survived and wireless operator Ernest Kerwin is also buried here.
In 1995, the remains of the Lancaster were excavated from a field near the village of Coveney. Amongst a tangled mass of metal were found three of the Lancaster's four Bristol Hercules XVI engines. One of these, the starboard inner, was thoroughly cleaned and now forms the centrepiece of a display of 115 Squadron memorabilia at Witchford Museum.
Charlie Eddy MBE
Flight Lieutenant Charlie Eddy was an Australian serving in the Royal New Zealand Air Force (RNZAF). 29 years old, he was the pilot of another Lancaster also returning to Witchford on the night of 18/19 April 1944. He must have passed directly over the flaming wreckage of Arnold Feldman's aircraft before his Lancaster was also shot down by what is thought to have been another Luftwaffe intruder. Charlie's aircraft crashed to the ground and none of the crew survived. Rear gunner Henry Bennis is also buried here, while the bodies of the other crew members were taken to their various home towns and villages for burial.
Tony Lawrence
Sergeant Tony Lawrence was 20 years old, from Berkshire, and he was one of the air gunners on board a 97 Squadron Lancaster on the night of 16/17 December 1943. His aircraft had taken off from RAF Bourn – an airfield approximately 9 miles west of Cambridge – to join an attack by over 480 Bomber Command aircraft on the German capital, Berlin. On the way to, and from, the target area there were numerous attacks by Luftwaffe nightfighters and at least 25 Lancasters were shot down. The returning aircraft were then faced with extremely bad weather as they attempted to land at their bases in Cambridgeshire, Norfolk and Lincolnshire.
Aircraft began crashing into trees or crash-landing in fields. Some were flown to a higher altitude and abandoned as their crews bailed out. Over 30 squadrons took part in the operation, almost all of them losing at least one aircraft as a result of the night's activities. But Tony Lawrence's squadron was the worst hit. Eight of its aircraft were shot down, crashed on return or were abandoned by their crews. In total, there were 57 men on all those aircraft and 36 of them lost their lives. Of those, eight are buried in Cambridge City cemetery.
The sense of shock experienced by those at Bourn, when the full extent of the losses became known, was considerable. It was a feeling shared at many bases. Buried in the cemetery here are a further 48 crew members from 14 aircraft and 9 squadrons. The night became known throughout Bomber Command as Black Thursday. Author Jennie Gray has written a superb account of what happened, called Fire By Night. She has a particular interest regarding Tony Lawrence's Lancaster. In extremely poor visibility, the aircraft had crashed into a field almost adjacent to Bourn airfield and caught fire. Only two crew members survived the crash. Jennie Gray's father was one of them.
How to get there
Road
If you are not familiar with the centre of Cambridge, plan your journey to avoid it entirely. What this means is that you aim first for the Cambridge Ring Road and, from whatever direction you arrive, aim to travel around it until you reach the signs indicating directions to Cambridge Airport.
Rail
Cambridge station is the closest. It has excellent connections to and from London, (Liverpool Street and Kings Cross stations), and reasonable services to and from places in the Midlands and the North.
Taxis are readily available outside the station. Drivers will sometimes assume that 'war cemetery' means the American Military Cemetery at Madingley. Therefore it's always best to specify 'Cambridge City Cemetery' or 'Newmarket Road Cemetery' and, if any doubt persists, add something to the effect that the cemetery is 'right next to Cambridge airport'. At the very least, this will get your taxi pointing in the right direction from the outset.
Cycle
Cambridge is cycle-friendly, its drivers not necessarily so. The further from the city centre you travel, the faster and less forgiving the traffic gets. Still, the cemetery is not too far from the city centre and much of the route has clearly-indicated cycle lanes.
Opening Hours
There is unlimited pedestrian access. The car parks are free and open from 07.00 to 19.00 hours.
Other things to see
Cambridge Airport
Almost on the other side of the Newmarket Road, Cambridge airport is the base of Marshalls of Cambridge – a leading aviation business. The airport is also a thriving private and commercial airport. Unfortunately, public access is very limited.
Places to stay, eat and drink
There are far too many possibilities in Cambridge to list here. It's best to consult a suitable web site – details of which are given below.